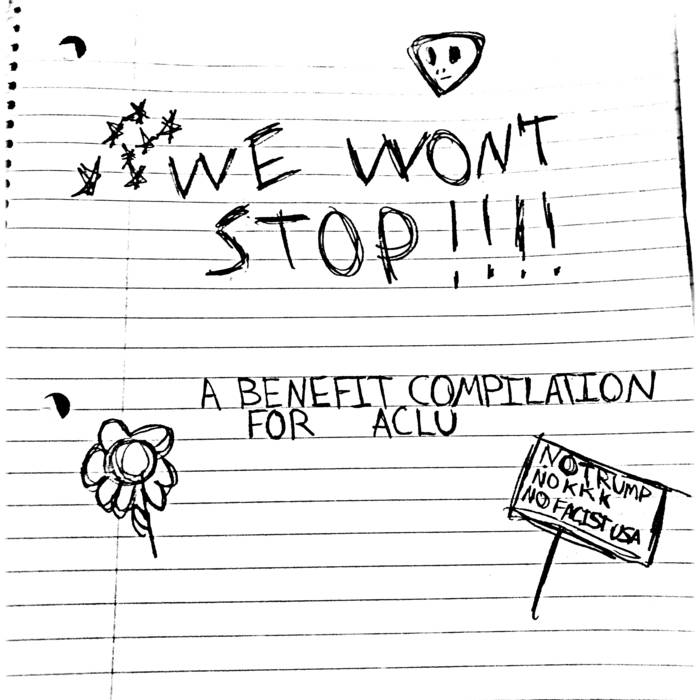 Poorly Drawn Records, the newly formed label from the infamous Twitter account "Poorly Drawn Bands," adds on to the resistance with the new compilation album We Won't Stop, featuring a smattering of Philadelphia's up-and-coming covering some of their favorite artists in support of the American Civil Liberties Union (ACLU).
Not unlike the higher-profile Don't Stop Now: A collection of covers, each track brings a raw and stripped-down feel to some of the scene's favorite artists from all over the expansive map of rock and roll, ranging from PhillyU faves Whine Moms' lonely cover of Sorority Noise's "Smooth Jazz" to The Weak Days' almost Rosenstock-esque take on the anthemic "Mr. Brightside" by The Killers.
SHITPERSON amplifies the rage with needed covers of The Dead Kennedy's "California Uber Alles/Nazi Punks F*ck Off", while Vince Duong memeifies the dad-rock anthem "Treat Her Better" by Mac Demarco through thoughtful acoustic strumming. With too many fantastic tracks to pick out, Poorly Drawn Records does something not so poorly; helping out a great cause with some great tunes.
Stream the compilation below, and grab it for only $5, as all proceeds will be going to the ACLU.
Comments
comments
Tags:
ACLU
,
ACLU Compilation
,
Poorly Drawn Records
,
SHITPERSON
,
The Weak Days
,
Vince Duong
,
Whine Moms