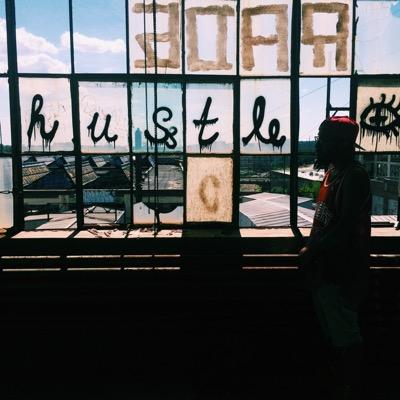 In a world of multihyphenates, Philly based MC / producer / multi-instrumentalist / visual artist, Ronniere Spacely effectively straddles disparate worlds of music, film and modern art. A native of Norfolk, Virginia, and a dedicated acolyte of Virginia production duo The Neptunes (Pharrell Williams and Chad Hugo), Spacely absorbed the heavy-hitting, melodic and harmonically rich aesthetic of his hometown heroes into his own music.
He poured these influences into his recent self-released Uncle Lahk Jaw mixtape and his self-shot and produced short film Yo Bro, a lo-fi, experimental musing on love, infatuation and music. A striking work complete with oddball editing, vintage visual effects and a colorful musical score that bridges the gaps between hip-hop, pop and soul, Yo Bro made its debut this summer at the Black Star Film Festival. We linked up with him (via Facebook chat) to talk music, art and the spirit of inspiration. 
The Key: For starters, could you give a little background about yourself? Are you from Philly?
Ronniere Spacely: Norfolk VA 1993
TK: Word. Can you tell me a bit about how you got started making music?
RS: I learned keyboard percussion (vibraphone) in middle school and did marching band in high school for a year and dropped out. At that point I was more interested in making my own music. Spent all my time making beats in that old back room doing 5 Beats a day…3 summers. Haha. That was tough.
TK: Word. When you were playing in band, what kind of music were you interested in / into?
RS:
🖖🏾
🖖🏾
🖖🏾
🖖🏾
🖖🏾
🖖🏾
🖖🏾
(*Note: The Spock hand emoji is used by fans to symbolize The Neptunes and their Star Trak label)
TK: Is that your final answer? Lol
RS: Naw lol !!! Kanye, Roy Ayers, 9th Wonder and MF DOOM, Tribe too.
TK: Word. Speaking of the Neptunes, you're music is deeply influenced by their sound. Can you go into detail and explain how you were first introduced to their music and what it has meant to you personally?
RS: Wow!!!  I was walking home from school [with a friend] and we were talking about the hand and pen percussion that happened earlier that day at the lunch table. Had to have been the day after "Grindin" [by Clipse] came out, and he told me the guys rapping and who made the beat was from the city. [Norfolk, Virginia] I'm like "you're a liar" and he told me to look up a list of songs from artists that came from the 757 and those YouTube videos changed my life.
A couple of months later, Pharrell pull up to the block (not my block of course) and throws boxes of A Bathing Ape, BBC, and Ice Cream (cult streetwear brands that Pharrell was associated with in the early aughts). When we could finally afford to buy it I was flossing on them. I personally can say I am very well versed in The 🖖🏾.
TK: Wow! That's amazing, what was it like being in VA at the time when that sound was dominating music?
RS: It was too influential I legit lost my identity. Haha. I didn't really find it again until I went to Tokyo.
TK: Why were you in Tokyo?
RS: Getting my masters in video art.
TK: Nice, I'm glad that you brought that up, you made a film Yo Bro that premiered at the Black Star film festival last year. Could you talk a little bit about the making of that film and the role that video and visual art plays in your work?
RS: I'm still surprised I got selected for that actually. But yeah, I made that film to basically a compilation of what I had been working on artistically at the time plus an illustration to the EP I've been sitting on. And visual art is a new addition to my skill set and I am actually getting my feet wet in the painting and art installation world.
TK: Yeah, your movie was by far the longest of all the "shorts."
RS: Right!!! Lol
TK: Could you talk a bit about the process of making Yo Bro?
RS: It involved a lot of reflection and revisitation all of my old projects assigned in school, and I picked which ones were compelling enough to make the cut.
TK: And you filmed the entire thing on Beta-Max tape?
RS: I'd say about two-thirds of it was on Beta, the other was in 4K Digital.
TK: Word. Can you talk about that process of filming and share a bit about what the film is about?
RS: It was very experimental. I had no real goal in mind putting it together. I scavenged through old videos on my phone from years ago. The whole thing was more therapeutic than anything, sort of like a stream of consciousness. So when you ask what's it about I feel like there isn't a definitive answer.
TK: Right. I definitely got that stream of consciousness feel from watching it. And there were also some themes that dealt with romantic love and the muse and your love of music too, right?
RS: Yeah, for sure. My stuff is actually combining all of that for another "experimental trial" with another muse. This next jawn is gonna be crazy!
TK: Word! To wrap it up, what do you have coming up? New projects? Music? Film?
RS: I'm actually working on this "choose your own adventure" Afrofuturism. Looking to release a lot more music this year, that's my resolution.
Comments
comments
Tags:
Ronnire Spacely