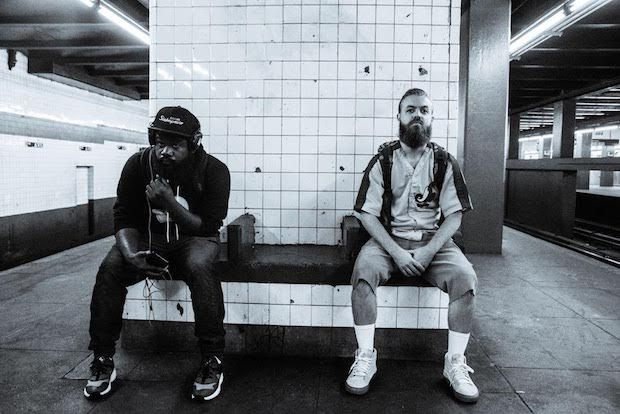 Think a holiday week means there's no live music to keep you entertained? Think again. Starting tonight with rising R&B star Jessie Reyez, carrying through an album release from Killiam Shakespeare this weekend, and a Green Room showcase with DaniLeigh on Monday, here are twelve concerts you can see in the next seven days all around Philadelphia.
Tuesday 11/20:  Jessie Reyez at Union Transfer
Jessie Reyez sealed her permanent presence on the hip-hop scene over the summer with her Made In America performance and collaboration with Eminem. The singer dropped her EP Being Human In Public last month, a work that showcases her blunt, confrontational personality and diverse style. Start your week right and catch Reyez at Union Transfer next Tuesday. // 8:30 p.m., $25, AA // TIX + INFO – Mariah Hall
Wednesday 11/21: Free Range Folk at Mauch Chunk Opera House
Free Range Folk hosts their annual Harvest Jam at Mauch Chunk Opera House, inviting all to ring in the holiday season with "farm-to-table food and farm-to-turntable music." // 7:00 p.m., $10, AA // TIX + INFO – M.H.
Friday 11/23: Night Birds at Everybody Hits
New Jersey punks Night Birds recently dropped Roll Credits, an album that proves to be authentically hardcore in its energetic instrumentals and furious yelling vocals. They play with the Ramones-influenced Dark Thoughts at Everybody Hits–try not to get too bruised in the mosh pit. // 9:00 p.m., $10, AA // TIX + INFO – M.H.
Friday 11/23: Octave Cat at Johnny Brenda's
Octave Cat released their live concert album Live at the Simulation over the summer, a work that pulses with danceable bass lines and funky synths. Melt away the stress of your work week by letting loose to their jams at Johnny Brenda's. // 9 p.m., $16, 21+ // TIX + INFO – M.H.
Friday 11/23: Max Swan at MilkBoy
Philadelphia sax player / composer Max Swan and his band just recorded a fantastic Key Studio Session, playing songs off his new album The Fisherman. The act is enchanting live, with their jazzy instrumentals and wide improvisational spaces–you can see them at MilkBoy in Center City on Black Friday. // 8:30 p.m., $10, 21+ // TIX + INFO – M.H.
Friday 11/23: Pusha T at The Fillmore
Pusha T's solo album Daytona was produced entirely by Kanye West, and at only 7 songs was praised for its condensed uniformity. Pusha T brings his twisted verses to the Fillmore on Black Friday. //8 p.m., $35, AA // TIX + INFO – M.H.
Friday 11/23: Masie Blu at World Cafe Live
If you prefer music to shopping on the day after Thanksgiving, Philly artist Masie Blu headlines the perfect show upstairs at World Cafe Live this Friday night; she'll be joined by fellow local artists Kilamanzego and Gender Work. Masie Blu has been sharing her innovative synth-soul singles via Soundcloud for a few years now, and just released her new EP TRANSFORM this summer. // 8 p.m., $7, AA // TIX + INFO – Sarah Hojsak
Friday 11/23: ill Fated Natives at Bourbon & Branch
Also this Friday night, local power trio ill Fated Natives play a show at Bourbon & Branch, along with OOLALA. The bluesy/jazzy rock group debuted in 2015 with SAVAGES; most recently, ill Fated Natives released a live album, called Live at The Bitter End, recorded at a performance in New York earlier this year. // 8 p.m., $10-$15, 21+ // TIX + INFO – S.H.
Saturday 11/24: Killiam Shakespeare at Johnny Brenda's
Philadelphia psych rock outfit Killiam Shakespeare celebrates the release of their new full-length album
A Town Called Elsewhere
with a Saturday night gig at Johnny Brenda's. The new project features a number of collaborators, including Bilal, who will play an opening set at the show. Kiefer will also play, and DJ Aktive will be spinning records throughout the night. // 9 p.m., $12, 21+ //
TIX + INFO
– 
S.H.
Saturday 11/24: Brian Setzer Holiday Show at Academy of Music
It's still November, but Brian Setzer and his Orchestra are already on tour performing their annual holiday show, which makes a stop this Saturday at the Academy of Music. This year marks the 15th anniversary of Setzer's Christmas Rocks! show, so it should be an extra-special evening of holiday tunes. Lara Hope and the Ark-Tones open the show. // 8 p.m., $39+, AA // TIX + INFO– S.H.
Saturday 11/24: Huffamoose at Ardmore Music Hall
After they play Free at Noon this Friday, Philly alt-rockers Huffamoose will headline the Ardmore Music Hall on Saturday night. The band saw success in the 90s, and took a bit of a break before reuniting a few years back. This weekend, you'll be able to hear them play brand new music, from their forthcoming album …And That's When The Golf Ball Hit Me In The Head // 8 p.m., $15-$30, 21+ // TIX + INFO – S.H.
Sunday 11/25: Sub-Sahara at The Pharmacy
All the way from Dallas, TX, Sub-Sahara makes a stop at The Pharmacy Sunday afternoon for a special daytime gig; the band is touring behind their newly-released Infatuation EP. Also on the lineup are Out Of Orbit, Mommy's Lying and Mondays. // 3 p.m., $10, AA // INFO – S.H.
Monday 11/26: DaniLeigh at Underground Arts
Heineken ends this year's Green Room series with a performance by DaniLeigh next Monday at Underground Arts. A newcomer to the hip-hop/R&B scene, DaniLeigh released her debut album Summer With Friends last year. The event is open to Heineken Green Room Insiders, who must RSVP by Nov. 24.  // 9 p.m., 21+ // INFO – S.H.