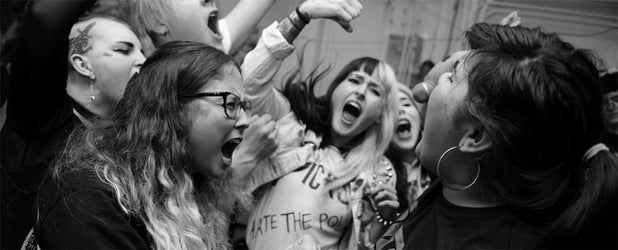 "For years punk and hardcore have been deemed white genres of music," write the organizers of Philly's Break Free Fest, "pushing aside and ignoring people of color who have been shaping it for years." The festival, which takes place on Saturday, May 27th at The Rotunda in West Philadelphia, seeks to bring those marginalized artists together and to the front. All week long leading up to the event, we're highlighting some of the performers on the bill.
1. Who is in the band, how long have you been around for, and how would you describe what you're doing to someone who might not be familiar?
Lowest Priority is Maya, Luna, Elysa, and Kristin (and sometimes Kerry, too). We are a hardcore punk band from Seattle, Washington, and we've been around for close to a year and a half now.
Basically we're a bunch of girls from different background having a lot of fun, jumping around, screaming our heads off, skating, and trying to spread a positive message for girls, queers, and marginalized identities. Our music is fast and the lyrics are very to the point. I talk a lot about my personal experiences and growing as a young person in addition to women empowerment and just exclaiming that, 'We don't take no bullshit from no bonehead men.'
2. What are you most excited about when it comes to Break Free Fest?
I've been anticipating Break Free Fest for a really long time, and I'm very honored we were asked to play. I'm really excited to be around my people…. The Northwest is very white and there are not a lot of brown and black people in the punk scene around here. Or in general our creative scene is very white. I'm just very excited to be around a more diverse crowd and an environment where we all feel safe and comfortable, vibrant, empowered, and we can all rock the fuck out. Continue reading →