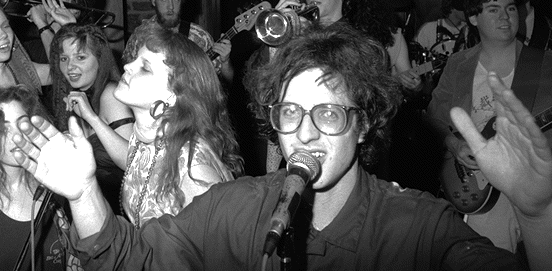 Philadelphia always gets typecast as the underdog, this city of illusion-of-grandeur miscreants that drastically wants to be NYC or D.C. or whatever else but can't. You probably know of the "6th Borough" label or the Rocky lovable loser trope or any of the articles that question why anybody would even try and find success in our wonderful city. Hell, even the Fresh Prince had to move to Bel-Air before he could make something of himself.
This is nonsense. Philly doesn't want to be New York or anywhere else. Like we're supposed to care about what goes on in those high-strung, obnoxiously stressful cities and somehow bend and break ourselves to fit that mold. What's great about this city, our city, is that we're not that. We don't have to play by their rules. People in Philadelphia have always created their own scenes and that music, that art, is the essence of what makes us unique. It's weird, freaky, and very much does not need to fit in.
Step into any West Philly basement and you're almost guaranteed to see a band that sounds like nothing else out there and absolutely slays. If you were the kind of person to look for clues in history, here's a hint: it's been almost five decades since Sun Ra and his Arkestra landed in Germantown and rewrote the rules of jazz and really music as a whole. There is literally no end to the examples of Philly bands that have decided to do whatever it is they felt compelled to do, even if nobody else cared. Underdogs we are clearly not.
"I don't know enough about other music scenes to know if all cities have it, but I feel like Philadelphia has such a strong undercurrent of weird shit." That's Eliot Duhan, lead singer of a band that's a perfect example of all that: EDO. Since their formation at St. John's College in Annapolis, MD back in 1987 – they moved to Philly soon after graduation – the band has continuously defied norms and expectations. Somewhere between Frank Zappa's matter-of-fact weirdness, the Butthole Surfers' freakout rock, and the outer space groove of Parliament Funkadelic, EDO (the meaning of the name has been lost to history) occupies a singular position in Philly punk history, even if you've never heard of them. Continue reading →