Bristol, England's Kate Stables — the woman behind the alias and floating band membership of This Is The Kit — and Brooklyn's Adam Schatz  — of the groovy art rocking Landlady — wouldn't seem likely bedfellows or touring mates from the former's Moonshine Freeze of 2017 (complex folk signature touches by subtle jazz washes) and the latter's Upright Behavior of 2014. That's what will probably make their shared June 26 showcase at Johnny Brenda's riveting.
---
The Key: What do you two know of each other or the other's work and how long have you known that?
Kate Stables: I first heard of Adam's music through Alec Bemis of Brassland. I was on the hunt for a horn section to join us for a show in New York in June 2017, and Alec recommended I get in touch with a guy named Adam who had a band called Landlady – a very happy discovery, indeed.  He's a lyrical and musical mastermind, velvet voiced with ping pong bounce.
Adam Schatz: I'd been hearing about This Is The Kit for a bunch of years, initially through my friends Jen Brown and Alec Bemis who ultimately connected me with them when they were looking for a sax player last year around this time.
TK:  Have you – in your current or respective previous band or act's past – crossed paths and what was the interaction?
KS: Yes, but, it is tour is the first time we get to witness his live and solo repertoire. And not a moment too soon.
AS: They had me and my buddy Jonah join them on saxophones last year, including a Tiny Desk Concert taping in December. It's always a joy to play and spend time with Kate and the rest of the band. For this short run of shows I'm opening them up solo and playing a bunch with This Is The Kit during their set, so It's a great musical workout for me every night and I get to play more music each day which feels great.
TK: Your newest songs or musical moments on each of your respective new albums: how do you feel that it is – or they are – radically different than the stuff we know you from on previous recordings?
KS: I think I've been enjoying messing with horn arrangements and rhythms more than on previous records. I might not be the best person to ask though.You might get a better response from someone who has more perspective on the albums' respective sounds; someone who isn't inside the spaceship and steering the thing.
AS: My songs with Landlady are a pretty clear evolution, surprising songs that are rooted in melodies that make me feel the big emotions that I hope listeners feel when they hear 'em. Almost all of the songs in my solo set are new ones that aren't recorded, so it's a chance for me to change things up and take more risks since it's just me up there, hopping between saxophone and keyboards.
TK: Look at your respective new albums: what song came first in the process of writing and recording – the one that would come to eventually define the overall tone of the album or push it in one direction? And how and why did that happen?
KS: Well, possibly the first song that was written for this most recent album was "Hotter Colder." And, conveniently enough, I feel like it does kind of represent the sound of the new album fairly well. But it's also pretty different to the other songs on the album in a few ways. So, yes and no. Both things are usually true. I don't think it shaped or pushed the album in a certain way. Well, not today anyway. But, I do think that the album was already going to be how it was going to be. It just hadn't surfaced yet. Kind of like a new tooth.
AS: Oof… I actually don't remember. I tried working on a bunch of songs all at the same time when I worked on that album. The song "Driving In California" was maybe the first one that felt totally finished, but it actually seems like an outlier to me on the album. I wrote those lyrics on a plane, which doesn't make sense with the song subject but I won't lie about it.
TK: Do you dig touring? Does the road get harder or easier – especially considering that for the most part this is the principle manner in which you earn money?
KS: I do dig touring. It's one of the most fun and rewarding aspects of being a musician for me. But, having said that, there is an important balance to be aware of: too much touring starts to eat away at the fabric of your being. It is a hard physical and psychological slog, and needs to be countered by enough home time and solitude. You must watch out for the balance.
AS: I get sick of bars, but, if you surround yourself with the right people on the road, any situation can be survived and feel positive, that's sort of the not so secret secret of it all. That, and always stay with your friends' parents, not your friends. Better houses, more food in the fridge, usually a good dog to play with. All of it. I love making music in places where people want to hear it. Multiply that across every city I've been lucky enough to play in and I'm happy to have the chance to do it.
TK: Is there any cool merch that either of you has that you specifically designed for these most recent gigs? And if so WHO designed them?
KS: We have t-shirts designed by my friend Ava, and also copies of our latest record. One day, I would also like to sell packs of playing cards, though.
AS: I'm just lugging the most recent Landlady LP The World Is A Loud Place, but it is a beautiful double LP vinyl set, with 3 sides of music and side D is an etching of Jesse Jacobs' artwork that he did for the record (and the animated gifs for each song that live on the Landlady Bandcamp page.)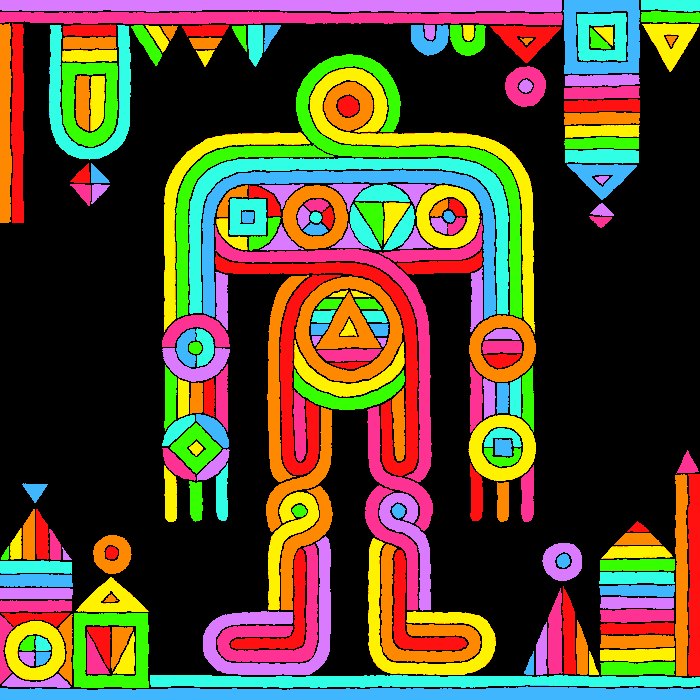 TK: Will the two of you chat before this show? Is there a plan of attack going into this showcase?
KS: Absolutely not. I shall be avoiding Adam like the plague. I do NOT want any kind of communication between us before the show. Or, at all that day, if possible.
AS: The most important aspect of sharing a bill with someone you respect and admire is taking on the responsibility to keep them on their toes. Sometimes touring makes you a little complacent, the same scenario every day, even though it's a new city, the lightless greenroom looms constant and that can birth a significant mental cloud. It is my job to make sure that Kate has new surprises every night. I've carefully stalked her foot-wear collection and will be stealthily replacing all of her left shoes with a second set of right shoes that I've purchased in advance.  I've acquired the passcode to Kate's phone and will be changing her ringtones to Gregorian chants. I've learned what books she'll be reading on tour, and have written additional pages that I will sew into the middles of each book, pages that always insert a new character named Badam Batz into the narrative.  I will be tuning her banjo in secrecy every nigh so that when she goes to tune it, it's already in tune. I'll be placing fresh mints not only on the pillows of wherever we sleep every night, but also on every couch cushion right before Kate sits down.  I'm adding a new celebrity to the guest list every night, and their absence each night will make the impact of Dwayne "The Rock" Johnson actually showing up to the Philadelphia show all the more impressive.
TK: How long have you been in the business of music and how do you think that time in has effected what you do, musically and lyrically considering your newest project and this tour…I mean, does it wear on you?
KS: Ah. This question is quite huge. Let me see. I've been in the business of music since my early twenties. It is very hard to know how it has affected me as there has been no control test carried out. I do have a twin sister though. Now, there's a wasted opportunity. There is a lot that wears you down in any business or line of work. Wherever capitalism is involved you're going to meet tough times and a fair few phonies.  But, there is a lot that nourishes also in this game. Meeting people, seeing new places, playing music, learning… All this stuff shapes a person and their approach to their craft/trade/creativity.
AS: I started playing shows when I was 14 in Massachusetts and have just been fine tuning those muscles ever since. Time has ultimately made me a better singer, a stronger bandleader, a wilder performer, I try to always push and push myself to be better. When I'm not on tour I get to practice at home, and cook and write, and when I am on tour I get to explode a bit every night for people who give a damn. Cumulatively, the years of doing that both gets more exciting but also numbs the sense to some of the magic. So then you have to push even harder. I do, I mean.
TK: How do you see your audience? Is there a distinct level of interactivity between you and them, or is there a deep, but passive listenership?
KS: Bit of both I'd say. It very much varies from gig to gig. I like to try and make some kind of connection with the audience. But, sometimes they're just not up for it or I'm just not managing it. Every gig is very different.
AS: I'm always very conversational between songs, and I think that breaks down some preventative barriers. I also usually sneak a mandatory sing-along into the set, as you'll see at this show, it's a doozie.
TK: Is there any trepidation going into an unknown live setting or is that the fun and drive of it?
KS: I like a bit of unknown. I like seeing if I can adapt to it. Sometimes I manage it and sometimes I don't. But the element of unexpected is important for me. Having to think on your feet, and maybe overcome some stuff? I like it.
AS: At this point there isn't too much that's "unknown." I'd love to actually confront more unknowns in the performance atmosphere. That would probably require a hot air balloon stage, which I've publicly stated before I am not opposed to. At this point it's usually just the usual questions of "what gear will break? Will anyone be at the show?" And for this tour, the answers are "some," and "yes," respectively.
TK:  What two songs of yours – perhaps, performed in a row – are geared toward having the most impact or biggest punch when played live? And why why why?
KS: Mmmh. Not sure how to answer this. I don't think I ever want to choose the impact I have on the audience. Just offer what I've got to offer. Stories and sounds. But. I do enjoy the sound and energy of playing the song "Hotter Colder," next to the song "Bashed Out." Mainly, I think that's because they're both songs where our guitarist Neil really gets to fly. And I just love his playing. It makes cosmic portals open up. So hopefully the audience enjoys that too.
AS: I have a bunch of new songs in my solo set, but I always close with a song I wrote years ago that has never been released on a proper album – it will someday –  but it's the best song I've ever written. It hits hard every time. It's called "I Pledge Allegiance (to your body)" and it's the most patriotic and sexual song that I perform. People are changed after they hear it. I am weaker, and they are stronger.
TK: What song are you most curious as to how it will go over in a live setting? What is the greatest challenge of performing it live?
KS: Well, they all can differ so much. Again the answer to this question probably varies from gig to gig. There are a few covers I do that are slightly more of an unknown quantity live setting wise. What do we ever know really? I'm curious as to how anything and everything will turn out. Ever.
AS: Every set, I always do a few deconstructed covers, meaning, I can improvise in and out of them and the parts that I play are largely composed on the spot every night. The songs seem to always find a way to connect, but the curious part is how audiences engage with my transparency of the improvised nature of the structure. People usually get psyched, and a few sometimes get impatient. I like the aspect of it that when I make a mistake it can be very public and then inform what I do next, which sort of makes it not a mistake anymore. We shall see!
TK: What will you do as soon as your set is done?
KS: The first thing I like to do after a gig is tidy up my gear, so I'm winding cables. Packing pedals. Filing plectrums.
AS: Eat cold food.
This Is The Kit and Landlady play Johnny Brenda's on Saturday, May 26th; tickets and more information can be found at the XPN Concert Calendar.
Tags:
Landlady
,
This Is The Kit
,
Two To Tango